Her ay daha fazla oyunla dolup taşan bir türde, roguelike bir deste oluşturucu olarak paketin arasından nasıl sıyrılabilirsiniz? Kart tabanlı tür popülerlik kazandıkça, giderek daha fazla geliştiricinin kendilerine sorması gereken soru bu. Canavar sürülerini yenmek için bir güverte inşa etmeyi seviyorum, bu yüzden Arcanium: Rise of Akhan'ın bu türe renk katmak için ilginç bir şey yapıp yapmadığını göreceğimi düşündüm.
Hayvanlarla dolu fırtınalı bir fantezi dünyasında, kötülüğe karşı savaşmak için tüylü veya tüylü üç kahramandan oluşan bir ekip seçmek size kalmış. Arzu tehlikede bir ülke ve Arkan the Felaket tehdidi her zaman başgösterirken başarılı olmak için tüm becerileri gerekecek. Harika bir dünya, ancak burada size rehberlik edecek bir sürü hikaye beklemeyin. Zaten destelerinizi yükseltmekle ilgilenemeyecek kadar meşgul olacaksınız.
Bu doğru, güverte çoğul dedim. Takımınızın her bir üyesinin, gününüzü mahvetmeye çalışan kötü canavarlarla savaşırken kullandığınız on dört yetenek kartına kadar kendi destesi vardır. Savaş üç şeritte gerçekleşir ve her zaman üç düşmana karşıdır. Her turda karakterlerinizin farklı kartlarda harcayabilecekleri belirli bir AP miktarı vardır ve bunların hepsinin birçok farklı etkisi vardır.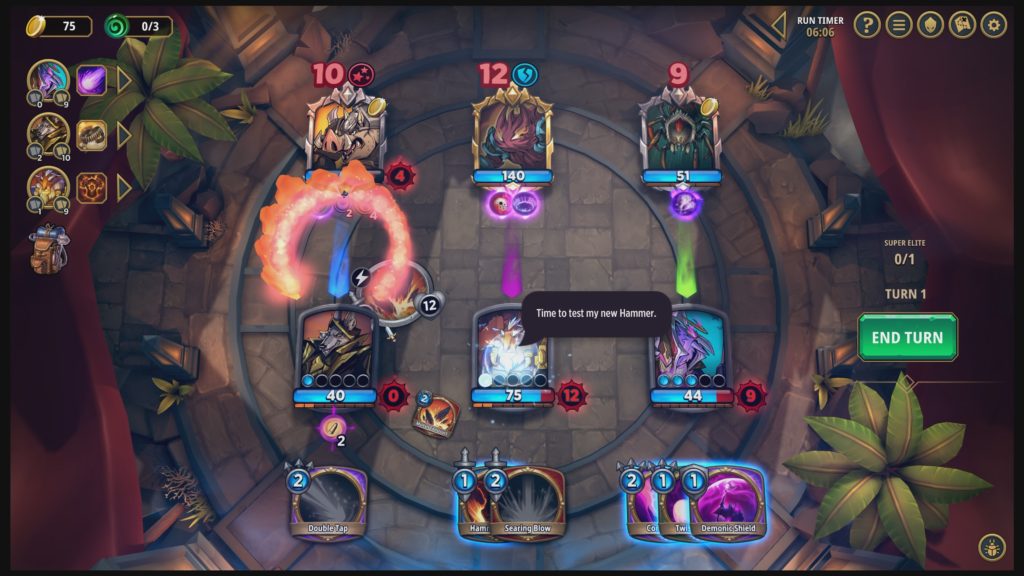 Daha temel kartlardan bazıları basitçe hasar verir veya engeller, ancak bir çalışmanın başlangıcında bile Leech, Weaken veya Burn gibi şeyler yapan kartlarınız olacaktır. Farklı statü etkilerinin sayısı açıkçası çok fazla ve eğer bu sizin ilk deste oluşturucunuzsa, muhtemelen zorlanacaksınız. Saatlerce süren savaşlardan sonra bile, tüm bu kafa karıştırıcı terimlerin ne anlama geldiğini görmek için sürekli olarak sağ tıklıyor olurdum.
Saldırı kartları, yakın dövüş ve menzilli olmak üzere birkaç kategoriye ayrılır. Yakın dövüş saldırısı yalnızca doğrudan karşınızdaki düşmanı vurabilirken, menzilli saldırılar bitişik herhangi bir şeridi hedef alabilir. Ayrıca, tek bir AP bedeli karşılığında yanınızdaki karakterle yer değiştirebilirsiniz; bu, hasar size geldiğinde ve karakterlerinizden biri herhangi bir blok çekmediğinde önemlidir.
Oldukça karmaşık olmasına rağmen, bunların çoğu en azından güverte inşaat gazilerine biraz tanıdık gelecek. Arcanium'un, kölelerin dahil edilmesi gibi, gösterilecek daha çok şeyi var. Bu çağrılabilir canavarların saldırı ve canları vardır ve esas olarak, hayatta kaldıkları sürece gelen hasarı engellemek için bir duvar görevi görürken aynı zamanda düşmanlarınızı da yok ederler. Bu deste oluşturucu aniden Hearthstone'a dönüştüğünde gerçekten şaşırdım ve hemen minion tabanlı destelere sahip kahramanları seçmeye çalıştım.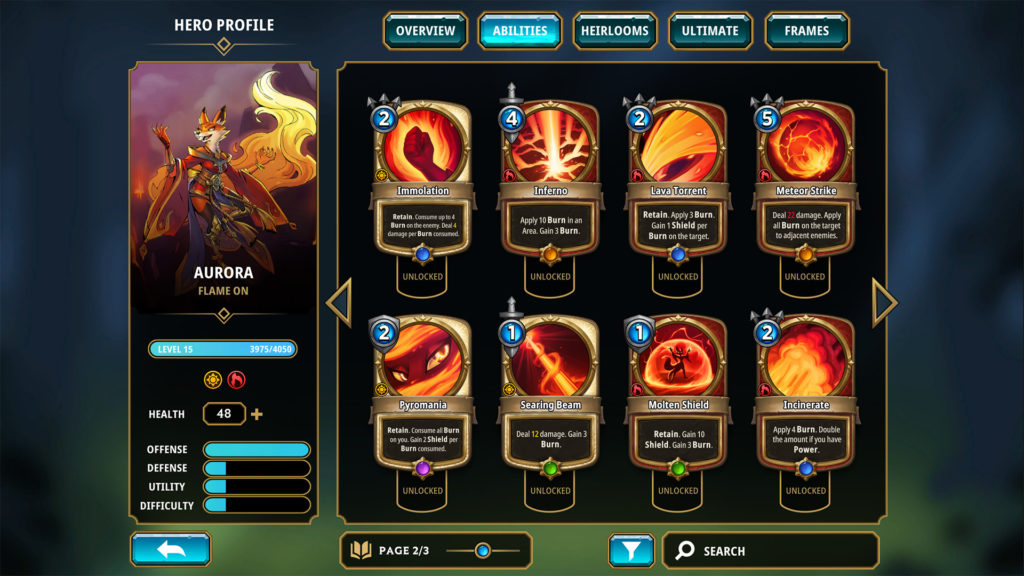 Seçilebilir her kahramanın ne kadar farklı olduğu oldukça vahşi. Hepsinin tamamen farklı desteleri ve etkili bir şekilde oynamak için çılgınca farklı yolları var, bu da piyasaya sürüldüğünde on altı tane olduğunu fark ettiğinizde etkileyici. Bazı karakterler, tek bir turda yeterli sayıda kartı bir araya getirebilirseniz büyük hasar verir, bazıları acıyı ortadan kaldıran nihai saldırılarla asla hasar almamaya odaklanır ve bazıları bir yığın iskeleti toplayıp onları bir düşmanda patlatmaya çalışır. yüz. Sadece üç taneyle başlıyorsunuz, bu yüzden en kısa sürede çeşitli kilitlerin kilidini açmaya odaklanmak isteyeceksiniz, çünkü yaptığınızda çok daha eğlenceli.
Gerçek savaşların dışında Arcanium, altıgen karolardan oluşan devasa bir haritada yer alıyor. Her döşemenin üzerinde, farklı savaş zorluklarından kamp ateşlerine ve destelerinizi veya kahramanlarınızı bir şekilde yükseltmenize yol açacak sohbetlere kadar bir tür olay vardır. Zorluk hızı delicesine hızlı bir şekilde arttığından, muhtemelen yükseltme içeren tüm karoları erkenden seçmek isteyeceksiniz.
Normal savaşlar yeterince zordur, ancak Arcanium haritasında cesaretiniz varsa deneyebileceğiniz ve üstlenebileceğiniz çok sayıda Elit savaşı ve Shard savaşı vardır. Bu dövüşler her zaman daha yüksek ödüller sunar, ancak topa sahip değilseniz takımınızı kırar. Genel olarak zorluk oldukça korkutucu ve zorluğu isteksizce gündelik olarak değiştirdikten sonra bile oldukça tutarlı bir şekilde dayak yedim.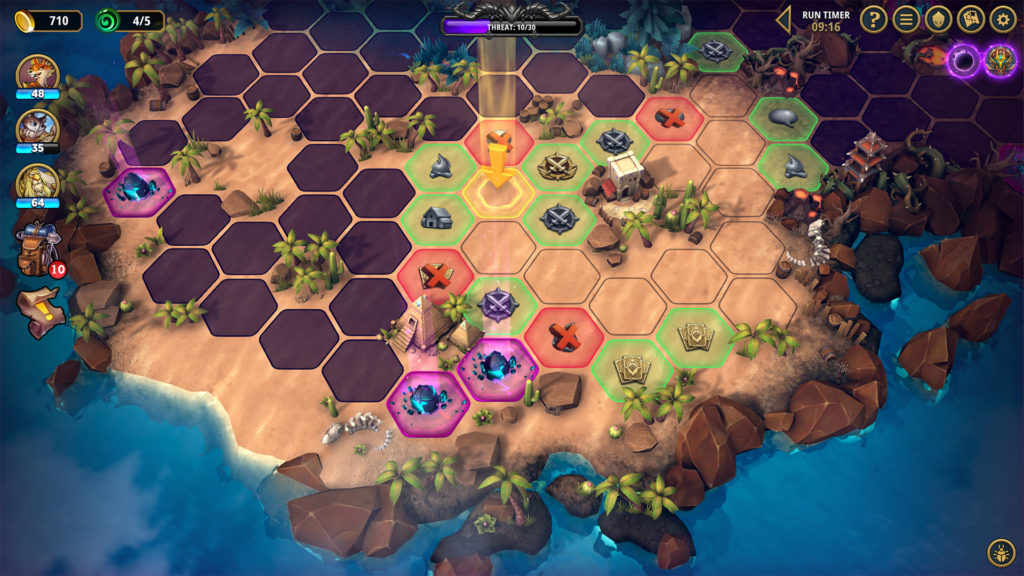 Yeterli sayıda kutucuğu ziyaret ettiğinizde, ekranın üst kısmındaki tehdit ölçer dolar ve dolduğunda başınız büyük belaya girer. Bu noktada harita patron karolarıyla hızla dolmaya başlar ve benim gibi bir şeyseniz koşunuz sona erer. Patronları yenmek inanılmaz derecede zordur ve her birinin üstesinden gelmek için gereken benzersiz bir strateji vardır. En azından böyle çalıştığını varsayıyorum çünkü kişisel olarak toplamda iki kişiyi yendim.

Arcanium'un altıgen panel kısmıyla canınız sıkılmıyorsa ve sadece kart savaşını hayatınızı mahvetmek istiyorsanız, arena modu tam size göre. Her dövüş arasından seçim yapabileceğiniz mini güçlendirici kart paketleri ile bu her zaman aksiyondur. Oyunu her iki şekilde de oynama seçeneğinin olması güzel, keşke ikisini de daha kolay hale getirmenin bir yolu olsaydı.

Arcanium: Rise of Akhan iyi bir güverte kurma oyunudur, ancak aşırı zorluğu ve genel karmaşıklığı onu harika bir oyun olmaktan alıkoyuyor. Gerçekten çaba gösteriyorsanız, minyonlar ve koridorlar gibi bazı benzersiz unsurlarla eğlenecek çok şey var, ancak bir güverte inşa etme dahisi değilseniz, muhtemelen becerilerinizi önce başka bir yerde geliştirmelisiniz.

'); jQuery('#top-ten-slider').carousel({ interval: 3500 }); jQuery('#trending-slider').wrapInner(' '); jQuery('#trending-slider').carousel({ interval: 3500 }); } else { jQuery("#top-ten-slider").simplyScroll({ customClass: 'the-bar', orientation: 'horizontal', direction: 'forwards', pauseOnHover: true, frameRate: 48, speed: 2 }); jQuery("#trending-slider").simplyScroll({ customClass: 'the-bar', orientation: 'horizontal', direction: 'forwards', pauseOnHover: true, frameRate: 48, speed: 2 }); } jQuery(".sidecar").simplyScroll({ customClass: 'sidecar-vertical', orientation: 'vertical', auto: false, manualMode: 'loop', frameRate: 48, speed: 9 }); jQuery(".steam-content").simplyScroll({ customClass: 'steam', orientation: 'horizontal', auto: false, direction: 'forwards', manualMode: 'loop', frameRate: 48, speed: 12 });